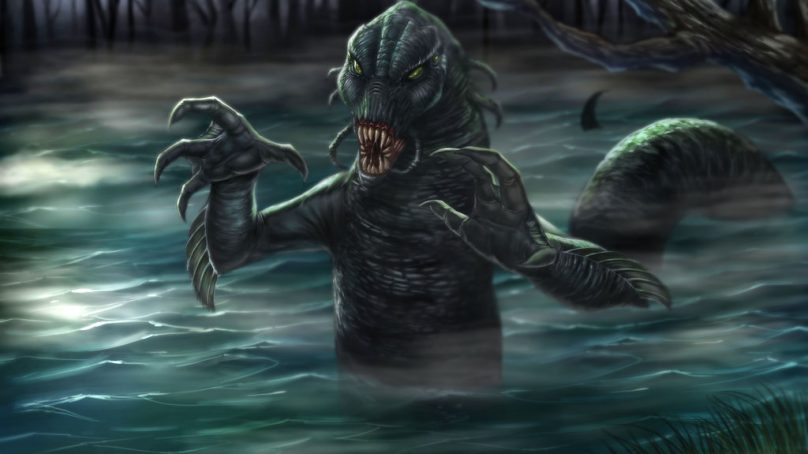 Throughout the United States there are stories of strange creatures that live in lakes and rivers. While familiar with the stories of Champ and Ogopogo, another freshwater monster exists in the Pacific Northwest. The name of this monster is Amhuluk.
Amhuluk comes from the Native American language of the Kalapuya people of Oregon. Amhuluk is a lake serpent that makes it's home in a lake near Forked Mountain, Oregon.
Physically, the lake serpent is very imposing as it has long and enormous horns, four legs without hair and a large spotted body that can move swiftly yet quietly through the water in search of it's prey. It is said that Amhuluk keeps a pack of dogs nearby him.
Amhuluk is a lake serpent that delights primarily on drowning it's victims in the water of the lake. According to legend, Amhuluk at first attempted to live in the plains of Atfalati, but these were not large enough. He needed to find a new place to live, and this at Forked Mountain. While living in the lake, every living being that has seen or been seen by Amhuluk has drowned in the lake, and the trees have been turned upside down by him.
Legends state that three children of the Kalapuya were digging for adsadsh root when Amhuluk emerged from the ground next to them. Not sensing the danger, the children sought to make digging tools from the horns of Amhuluk, but the lake monster was too quick for the children as he impaled two of the children on his massive horns. The eldest of the three managed to escape, and he returned home where he related his story to his father. Following the tracks of his son, the children's father came to Forked Mountain where he saw the apparitions of the two bodies emerging from the stagnant water where they promptly disappeared.
After a while, the bodies re-emerged from the opposite slope of the mountain, and this was repeated five times. By following the apparition, the father eventually came to where the two children were killed. As the fog lifted, the bodies of the children were seen to be in the horns of Amhuluk where they stated that their bodies were changed. After five days of seeing the apparitions of his children, the father understood the fate of the children, and he returned home to tell his remaining family that the children had been taken to live with Amhuluk forevermore.
The legend of Amhuluk is still told in Oregon today, and if you venture near the Forked Mountain take extra special care around stagnant pools as the monster could emerge at any time for a new victim.
Read more about the Amhuluk at Legends of America.